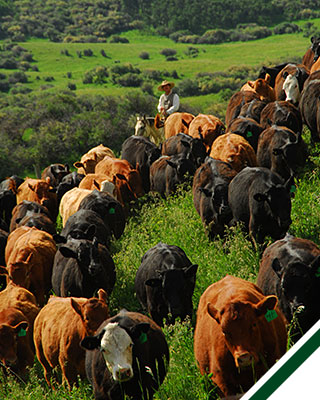 The ranching industry is under growing pressure as a result of escalating land prices, inflation and operation costs. Many ranchers and their families aspire to maintain or even expand their properties and operate in an ecologically sustainable manner; however, they simply don't have the technical or financial ability to do so. As a result, ranches become irreversibly fragmented, which leads to decreased operating efficiencies, reduce management flexibility and impaired ecological function.
U.S. and Canadian ranches cover more than 50 million acres of real estate worth roughly $800 billion, but no single ranch owns as much as 1% of the ranch land or livestock. In fact, the ranching industry involves over 1 million independent operators with an average herd size of 40-60 head. Each ranch faces a wide range of environmental and financial circumstances, and each ranch utilizes different skill sets to address complex production and marketing challenges.
Ranchers often need to understand and incorporate extensive knowledge in disciplines as varied as livestock handling, genetics, agronomics, finance, regulatory compliance, infrastructure (planning, construction and maintenance) and subsurface resource management. In the face of such complexity, the vast majority of ranchers function as generalists rather than specialists. As a result, although most ranchers are hardworking and intelligent, the profitability of ranches varies significantly even when they are located in the same area are operating on similar scales.
To many people, these conditions create a disincentive to remain in the agricultural sector. This results in a scarcity of highly experienced and educated ranchers, which further compounds the problems of management inefficiency, ownership turnover and fragmentation.
Three Overlapping Industries