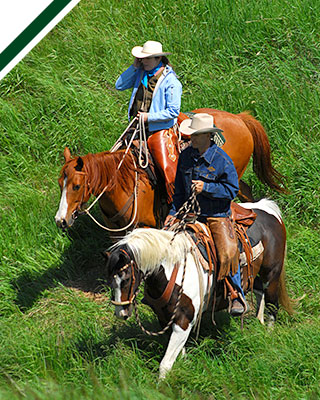 Western Ranchlands utilizes a variety of private and public partnerships to increase the cash flow and liquidity of ranch land investments and enhance land-based asset values. Whether we acquire sole title or fractional interests in a property, we invite specialized partial equity interests from prospective financial partners whenever possible. This allows investors to acquire partial interests at a lower cost and helps to diversify the risk of any one investor owning the entire property.
The goods and services or "products" from land-based businesses such as ranching can be broadly lumped into four broad categories. These include Production (cattle, beef, leather), Recreation (hunting, fishing birdwatching), Investment (real estate) and Conservation (open space, biodiversity, wildlife habitat). Outputs from each product category can be marketed to different target groups, each with their own specialized needs and desires for the use of the rural land.
Western Ranchlands' business model is designed with flexibility in mind, so that certain shareholders may hold disproportionate rights to those value streams or products that best align with their interests. For example, a shareholder with a large enough interest in a property may receive special recreational rights, such as hunting or fishing privileges, while another may request targeted management of a certain area of the property, such as a riparian area or unique habitat type. This also serves to strengthen demand for the property while simultaneously making desired outcomes and experiences far more affordable than other alternatives.
At the same time, we recognize that conflicts among participative shareholders with competing interests will inevitably occur. Our unique decision-making process and property management agreements are designed to address these issues and clearly specify the methods used for various types of dispute resolution. Prospective partners are expected to review and adhere to these policies prior to participating.
By allowing our partners to participate in the aspects of ownership they value most, we reduce the relative cost of ownership for all parties.